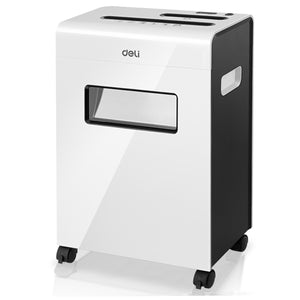 Paper Shredder (23L)
SKU:
40134
CROSS CUT (12 SHEETS) 
Model no: 9903
Brand: DELI
ALU: 6921734999030
Size: 23LTR
Deli - Paper Shredder
Brand: Deli
Model: No: 9903
Capacity: 23L
Cut Type: Cross cut Shred
Rated Power: 240W
Rated Voltage: 220V
Rated Frequency: 50Hz
Shredding Speed: 2m/min
Paper shredding capacity: 12 Sheets (70g)
Paper entrance width: 225mm
Material: Carbon steel, ABS
Dimension: 450 X 305 X 615mm
Net weight: 12.2kg
Gross weight: 13.6kg
Features:
Infrared sensor: Paper is fed automatically by infrared sensor.
Handle: Motor will power off while the dust bin is drawn out.
View Window: View window will remind you of cleaning the dust bin timely.
Remark: Motor will stop automatically after continuous working of 10 minutes round to prevent it from and it will work as usual after 30 minutes round.
We Also Recommend