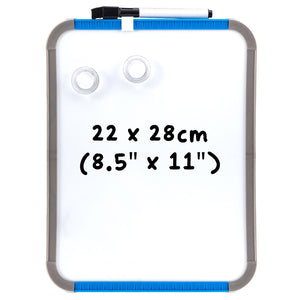 Whiteboard (with Marker)
SKU:
52685
WITH DRY ERASE MARKER 
Model no: 39154
Brand: DELI
ALU: 6935205391544
Size: 279X216MM
Deli - Whiteboard
With Dry Erase Marker
Brand: Deli
Model: 39154
Color: Assorted Color
Size: 216 x 279mm (8.5" x 11")
Material: Plastic
Feature:
Easy to clean and maintain.
Used in learning and taking notes.
Suitable for students-students, office staff.
Includes White board Marker (x1) & Eraser (x1).
Whiteboard writing pen is easy to wipe without ink, no staining over time and is especially waterproof.
We Also Recommend