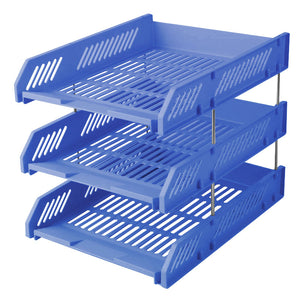 Document Tray
SKU:
39733
3-TIER (PLASTIC) 
Model no: 9209
Brand: DELI
ALU: 6935205340368
Color: BLUE
Deli - Document Tray
3-Tier
Brand: Deli
Model: No: 9209
Color: Blue
Material: HIPS Plastic + Metal
Dimension (W x D x H): 26.8 x 33.6 x 11.8cm (10.6" x 13.2" x 4.6")
Features:
Sturdy and durable and hard to deform.
This tray can hold sheets of up to A4 size.
Removable metal connecting rods for compact storage.
Hollowing out design to keep the ventilation, hard to accumulate dust.
This tray is made from a durable and lightweight plastic that is easy to maintain.
3 Tier Document Tray has a front load design so that you can easily access your documents while you are working.
We Also Recommend