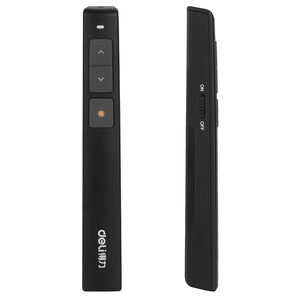 Laser Pointer
SKU:
45875
WIRELESS PRESENTER RED 
Model no: 2802
Brand: DELI
ALU: 6921734922335
Color: BLACK
Deli – Laser Pointer
Brand: Deli
Model: 2802
Color: Black
Wireless Range: 30 meters
Laser: 3R Laser (Red Light)
Laser Power: <5mW
Laser Range: 100 meters
Battery Type: 1x AAA Battery (not included)
Operating system: Windows, Mac OS, Linus & Android
Material: ABS Plastic
Dimension (W x D x H): 1.9 x 1.7 x 14.2cm
Features:
Simple to use.
Built-in receiver.
Red light laser point.
Multi-system compatibility.
Plug and play, no special drive.
Slim pen style, compact and lightweight.
Powered by one AAA battery (not included).
Wireless 2.4GHz USB receiver for plug-and-play simplicity with any computer.
It can be used in many places, such as meeting room, teaching, and presentation and so on.
It also combines more functions of page up, page down, play slides and hyperlink for PowerPoint presentation.
We Also Recommend