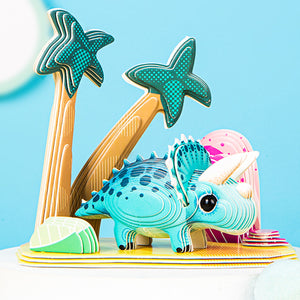 Educational Toy (3D Puzzle)
SKU:
52651
TRICERATOPS 
Model no: 83617
Brand: DELI
ALU: 6935205329493
Color: ASST
Deli – Educational Toy
Triceratops (75-pieces)
Brand: Deli
Model: 83617
Color: Assorted Color
No. of Puzzles: 75 Puzzles
Suitable for Kids: 3+
Material: Cardboard
Features:
Soy Ink safe for children.
Parent & Child Interaction.
3D three-dimensional design, more vivid image.
It is not only a toy, but also a good ornamental.
Contains 8 sheets of papers, 2 plastic eyes, 1 tube of 12ml white glue, 8 labels and manual.
We Also Recommend