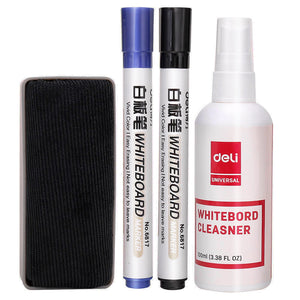 Whiteboard Cleaner (4 PCs)
SKU:
48293
CLEANING SET 
Model no: 7839
Brand: DELI
ALU: 6921734978394

Deli – White Board Cleaner
Cleaning Set (4 Pieces)
Brand: Deli
Model: No: 7839
Includes:
Whiteboard Marker (Black & Blue) – X2
Whiteboard Spray Cleanser– X1
Whiteboard Eraser – X1
Features:
Board eraser for daily use.
Writing and erasing combo set.
2 Deli High performance dry eraser markers U001 included.
Whiteboard Spray Cleanser: Convenient cleaning without adding water and can clean surface only with several spray.
We Also Recommend