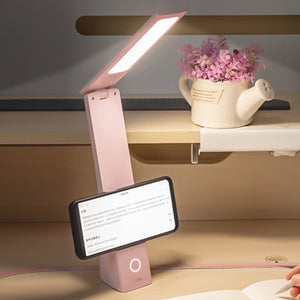 Desk Lamp
SKU:
52643
LED RGO LIGHT 
Model no: 17855
Brand: DELI
ALU: 6935205326737
Color: PINK
Deli – Desk Lamp
LED Light
Brand: Deli
Model: 17855
Color: Pink
Rated Power: 4W
Rated Voltage: 5V
Battery: 1200mAh
Charging: Via USB
Material: ABS Plastic
Dimension (W x D x H): 7.5 x 5.2 x 26.9cm (3" x 2" x 10.6")
Features:
LED Light.
No Video flash.
Mobile phone holder.
1200mAh lithium battery.
RGO level blue light reduction lamp beads.
Stimulates natural light, soft and comfortable.
Adjustable Lamp Arm: the direction of light can be adjusted.
USB cable can be connected to computers, power banks, or other equipment.
We Also Recommend