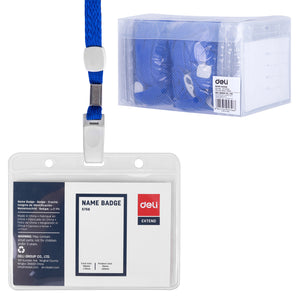 Name Badge (50 PCs)
SKU:
52703
WITH LANYARD 
Model no: 5756
Brand: DELI
ALU: 6921734957566
Size: 105X70MM
Color: BLUE
Deli – Name Badge
Horizontal Badge with Lanyard (50 Pcs / Box)
Brand: Deli
Model: No: 5756
Color: Clear/Blue
Shape: Horizontal
Card Size: 105 x 70mm
Card Holder Size: 115 x 93mm
Material: PVC Plastic
Features:
PVC for extra durability.
Clear PP film for an easy view.
High transparency material for a better view.
Easy loading PP film for convenient ID card replacement.
High quality and removable lanyard (with holding clip) included.
We Also Recommend