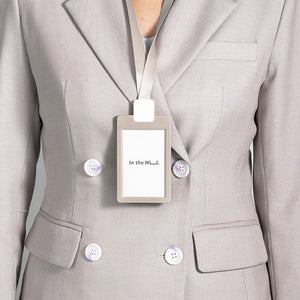 Name Badge (with Lanyard)
SKU:
52933
WITH LANYARD
Model no: NS531
Brand: DELI
ALU: 6941798414423
Size: 54X89MM
Color: ASST
Deli – Name Badge
Vertical Badge with Lanyard
Brand: Deli
Model: NS531
Color: Assorted Color
Shape: Vertical
Card Size: 54 x 89mm
Card Holder Size: 67 x 108mm
Material: PC + LDPE Plastic
Features:
Clear view.
High transparency material for a better view.
Four corners of the ID card holder are all rounded corners.
High quality and removable lanyard (with bite-type clip) included.
Lanyard is made of polyester fiber material, strong and longtime use.
Backside is printed with an eye-catching "OPEN" prompt, which makes it easy to open without removing lanyard.
We Also Recommend