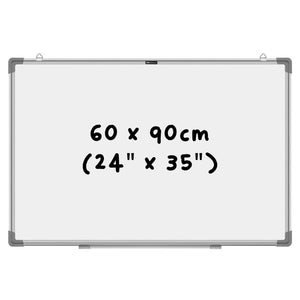 Whiteboard
SKU:
39847
MAGENTIC 
Model no: 39033
Brand: DELI
ALU: 6935205390332
Color: WHITE
Size: 60X90CM

Deli – White Board
Magnetic
Brand: Deli
Model: No: 39033
Color: White
Board Size: 60 x 90cm (23.6" x 35.4")
Material (Frame): Aluminum
Features:
Durable and easy to use.
Good quality surface coating.
Sliding hanging parts included.
Smooth surface wipes clean easily.
Pen tray provided, easy to assemble.
Includes: 2 Screws and 2 Screw Plugs.
Aluminum Frame with ABS Corner for longer shelf life.
Magnetic Surface: Smooth & durable magnetic writing surface, easy dry wipe.
We Also Recommend