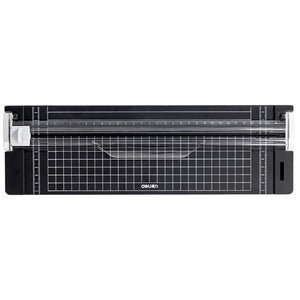 Paper Trimmer (A4)
SKU:
51434
CUTTER (PLASTIC) 
Model no: 14251
Brand: DELI
ALU: 6974776207847
Size: A4
Color: BLACK

Deli - Paper Trimmer
Brand: Deli
Model: No: 14251
Color: Black
Size: A4
Material: ABS Plastic
Dimension (W x D x H): 37 x 11.5 x 2cm (14.6" x 4.5" x 0.8")
Features:
Bi-Directional Cutting Head: Can easily cut up 4 pcs of A4 papers.
Blade Storage Compartment: Small compartment on the base for storing extra blade.
Non-Slip Base: Round anti-skid pads on the bottom of the paper cutter to prevent slip when cutting paper.
Convenient Measurement: Alignment grid and ruler printing on the trimmer base for accurate measuring.
We Also Recommend