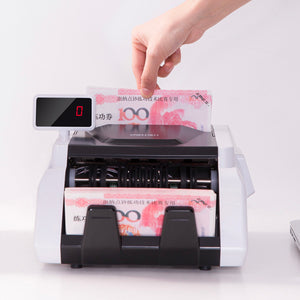 Currency Counter
SKU:
50131
Model no: 3903S
Brand: DELI
ALU: 6921734907158
Color: WHITE
Deli – Currency Counter
Dual Screen Display
Brand: Deli
Model: 3903S
Color: White
Rated Power: 80W
Rated Voltage: 220V
Rated Frequency: 50Hz
Speed: >900 sheets/min
Dimension (W x D x H): 24.8 x 29 x 18.2cm (9.8" x 11.4" x 7.2")
Product Weight: 3.8kg
Features:
Improve office efficiency.
Wind and heat dissipation.
Automatic detection sensor.
Live voice, adjustable volume.
Sorting function in smart mode.
One large display rotate up to 270°.
Built-in high speed motor for fast inspection.
Its powerful hardware is combined with its compact and exquisite appearance.
Flexible switching between 6 modes, you can choose the mode you need in various situations.
6 modes: Smart mode, count mode, total mode, sub-edition mode, preset mode, and accumulate mode.
Large LED dual-screen display are clear at a glance and makes it easy for you and other to view at the same time.
Click here for User Manual
We Also Recommend