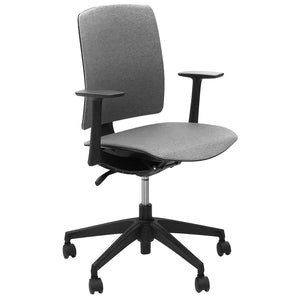 Low Back Chair
SKU:
47712
FABRIC 
Model no: CSSP01
Brand: DELI
ALU: 21884
Color: DARK GREY
Deli – Low Back Chair
Brand: Deli
Model: CSSP01
Color: Dark Grey
Material (Seat and Back-rest): Fabric
Material (Base): Nylon
Features:
360-degree swivel.
Comfortable Seating & Backrest.
Can be tilted independently without locking mechanism.
Seat adjustable height from 21.1" to 17.9", up and down to a comfortable position.
Work in style at the office or at home with this ergonomically-designed, medium-back office chair.
Ergonomic Fabric home and office task chair, designed to support your back always in correct seating way to protect your back and backbone.
Dimension:
Overall Height: 97 – 87.5cm (38.2" – 34.4")
Seat Width: 49cm (19.3")
Seat Depth: 45cm (17.7")
Seat Height: 53 – 43.5cm (20.9" – 17.1")
Back-rest Width: 41cm (16.1")
Back-rest Height: 46cm (18.1")
We Also Recommend