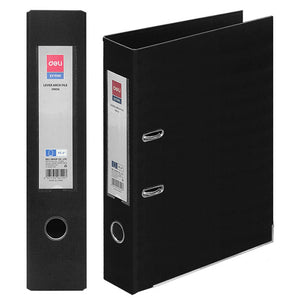 Lever Arch File (FC)
SKU:
40129
PP (3 INCH) 
Model no: 39656
Brand: DELI 
ALU: 6921734961297
Size: FC
Color: BLACK
Deli - Lever Arch File
Brand: Deli
Model: No.39596
Color: Black
Size: FC
Spine Width Size: 3-inch
Sheets Capacity: up to 500 sheets
Material: PP Plastic
Product Dimension (W x D x H): 28.5 x 7 x 34.8cm (11.2" x 2.8" x 13.7")
Features:
Thick and Durable.
Convenient Storage.
Spine label for easy identification.
High quality lever ring for durable use.
PP Material: Semi-coated PP Material.
Detachable design: Removable back for better organizing files.
The locking lever arch mechanism keeps contents secure and the finger pull hole in the spine makes it easy to get it off the shelf.
We Also Recommend