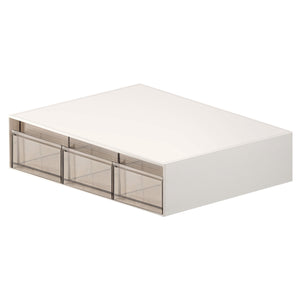 Storage Box
SKU:
52667
3 DRAWERS 
Model no: PK106
Brand: Deli
ALU: 6941798429489
Color: WHITE
Deli – Storage Box
3 Drawers
Brand: Deli
Model: PK106
Color: White
Material: Plastic
Dimension (W x D x H): 32.5 x 24 x 8.2cm (12.8" x 9.4" x 3.2")
Features:
Space-saving storage box.
This drawer storage box is one-way to open and close, more comfortable to store and organize small items.
it can be used for office room, store paper clips, staples, pushpins, glue, erasers and so on. It can be used for bathroom, can store makeup cotton, lipstick, hair tie and so on.
We Also Recommend