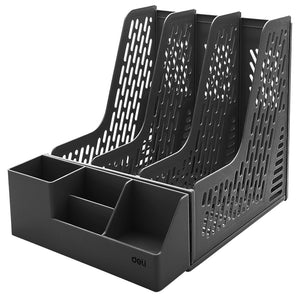 Magazine Holder
SKU:
44075
3 PARTS (PLASTIC) 
Model no: Z00122
Brand: DELI
ALU: 6935205306586
Color: BLACK

Deli – Magazine Holder
Magazine Holder with Pen Holder
Brand: Deli
Model: Z00122
Color: Black
Material: PP Plastic
No. of Compartment: 7
Dimensions (W x D x H): 255 x 320 x 275mm
Features:
PP construction.
Magazine holder with Pen Holder.
Keep your desktop organized for maximum productivity.
Extra 4 Compartments of Pen Holder with 3 Compartments of Magazine Holder.
Plastic material does not contain toxic substances, is safe for health and environmentally friendly.
We Also Recommend