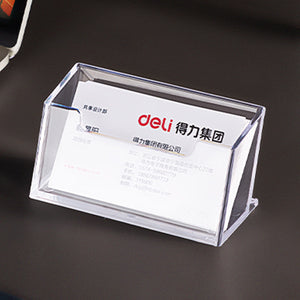 Card Stand
SKU:
39694
PLASTIC 
Model no: 7623
Brand: DELI 
ALU: 6921734976239
Color: CLEAR

Deli – Card Stand
Business Card Holder
Brand: Deli
Model: No: 7623
Color: Clear
Material: PP Plastic
Dimension (W x D x H): 10.3 x 4.5 x 5cm (4.1" x 1.8" x 2")
Features:
Designed with big capacity.
Business Card Holder, Clear Transparent.
With concise and classic design, you will not worry about it going out of fashion.
This card holder can keep all your cards clean and orderly for your convenient use.
Suitable to hold business card in hotels, sales counter, exhibition, the front desk, etc. for customers to fetch.
We Also Recommend