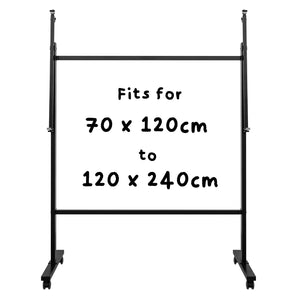 Whiteboard Stand
SKU:
52689
STEEL 
Model no: 7830
Brand: DELI
ALU: 6921734978301
Color: GREY
Size: 70X120CM - 120X240CM

Deli – White Board Stand
H Shape Stand
Brand: Deli
Model: No: 7830
Color: Grey
Compatible Board Size: 700 x 1200mm to 1200 x 2400mm with max. thickness of 22mm.
Frame Material: Steel
Features:
Lock function.
Strong H shape stand mechanism for improved durability.
Adjustable board height and display angle (in 15°) for more flexible.
4 casters for quick and easy moving in meetings, lockable function to fix the stand when in use.
Adjustable structure for 700 x 1200mm to 1200 x 2400mm of boards with maximum thickness of 22mm.
Product Dimension:
Weight x Depth x Height
Centimeter (cm):
W 120 x D 56 x H 157cm
Inch ("):
W 47.2" x D 22" x H 61.8"
Feet (') Inch ("):
W 3'11" x D 1'10" x H 5'2"
We Also Recommend