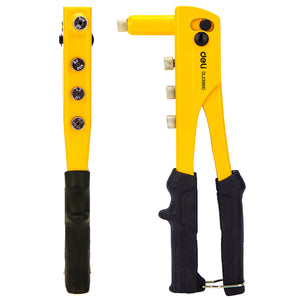 Rivet Gun (10.5")
SKU:
52772
HAND RIVETER 
Model no: DL236910
Brand: DELI TOOLS
ALU: 6974173011115
Color: BLACK/YELLOW
Size: 10.5INCH

Deli Tools – Rivet Gun
10.5" Hand Riveter
Brand: Deli Tools
Model: DL236910
Overall Length: 265mm (10.5")
Applicable Rivet Size:
2.4mm (3/32")
3.2mm (1/8")
4.0mm (5/32")
4.8mm (3/16")
Color: Black/Yellow
Material: 20Cr alloy steel + rubber
Features:
20Cr alloy steel for better riveting performance.
Convenient to pull out the rivet with helping spring.
Rivet head can be replaced according to rivet specifications.
Rubber handle for comfortable grip, labor-saving and convenient.
We Also Recommend