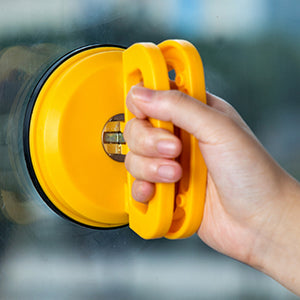 Glass Suction Cup (Ø118mm)
SKU:
52743
UP TO 40KG
Model no: DL-XP21
Brand: DELI TOOLS
ALU: 6975102945280
Color: BLACK/YELLOW
Deli Tools – Glass Suction Cup
Brand: Deli Tools
Model: DL-XP21
Color: Black/Yellow
Suction Power: Lifts up to 40kg
Suction Cup Diameter: 118mm (4.6")
Material (body): ABS Plastic
Material (suction cup): Rubber
Features:
Suction cup is made of rubber material.
Suitable for glass, ceramic tiles, marble slabs etc.…
Overall suction power is 40kg, which is safe and convenient to use.
Engineering plastic pressure buckle, good toughness, flexible and durable.
ABS body, which is wear-resistant and durable. Lightweight and easy to carry.
We Also Recommend