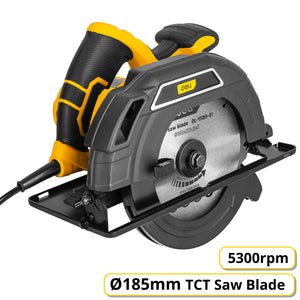 Circular Saw
SKU:
52725
1300W ELECTRIC 
Model no: DL-YJ185-E1
Brand: DELI TOOLS
ALU: 6974173016936
Color: BLACK/YELLOW

Deli Tools – Circular Saw
Brand: Deli Tools
Model: DL-YJ185-E1
Color: Black/Yellow
Rated Input Power: 1300W
Rated Voltage: 220-240V
Rated Frequency: 50-60Hz
No-load Speed: 5300rpm
Max. Cutting Depth:
For 45° Bevel Angle: 42mm
For 90° Bevel Angle: 61mm
TCT Saw Blade Size (outer Dia.): Ø185mm (7-1/4")
TCT Saw Blade Size (inner Dia.): Ø20mm
Features:
Lock-off switch.
TCT Saw blade of 24T.
Scope of use:Wood cutting.
Copper motor, efficient and durable.
Soft grip handle with comfortable handling.
High load motor, high temperature resistance, safe to use.
Arbitrary adjustment of 0~45° cutting, wide application range.
Anti-self-locking switch, preventing accidental touch, safe and reliable.
One-piece aluminum shield, which can be connected to a vacuum cleaner for clean work.
Packing Contents:
Circular Saw – x1
TCT Saw Blade (Ø185mm) – x1
Screw – x1
Socket Wrench – x1
Guide Ruler – x1
Spring – x1
Carbon Brush – x2
User Manual – x1
Warranty: 6 Months Warranty
Click here for User Manual
We Also Recommend