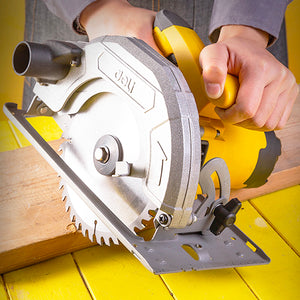 Circular Saw
SKU:
46921
1300W ELECTRIC 
Model no: DL631851
Brand: DELI TOOLS
ALU: 6971092848266
Color: YELLOW

Note: Blade Cutter not included.
Deli Tools – Marble Cutter
Brand: Deli Tools
Model: DL631851
Color: Yellow/Black
Rated Power: 1300W
Rated Voltage: 220V~
Rated Frequency: 50Hz
No-load Speed: 4400rpm
Max. Cutting Depth:
For 0° Bevel Angle: 55mm
For 45° Bevel Angle: 30mm
Applicable Saw Blade Diameter: Ø185mm
Features:
Metal thickened base.
Anti-self-locking switch design.
Double handle design for comfortable grip.
High efficiency motor, precision gear, small vibration.
Scope of use: Suitable for capital brick, marble, granite, concrete, wood and other materials.
Packing Contents:
Circular Saw – x1
Vacuum Interface – x1
Socket wrench – x1
Parallel Guide Ruler – x1
User Manual – x1
Warranty: 6 Months Warranty
We Also Recommend