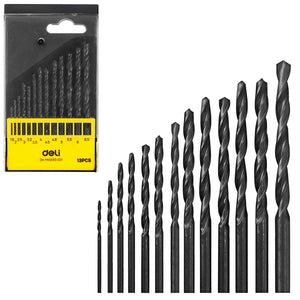 Drill Bit, Ø1.5 - 6.5mm (13 PCs)
SKU:
52731
HSS DRLL BIT SET
Model no: DH-MHZ013-ED1
Brand: DELI TOOLS
ALU: 6975495593389
Color: BLACK
Deli Tools – Drill Bit
HSS Drill Bit Set (13 Pieces)
Brand: Deli Tools
Model: DH-MHZ013-ED1
Color: Black
Drill Bit Diameter / Overall Length: 
Ø1.5mm / 40mm
Ø2mm / 50mm
Ø2.5mm / 57mm
Ø3mm / 60mm
Ø3.2mm / 65mm
Ø3.5mm / 70mm
Ø4mm / 75mm
Ø4.5mm / 80mm
Ø4.8mm / 85mm
Ø5mm / 87mm
Ø5.5mm / 92mm
Ø6mm / 95mm
Ø6.5mm / 100mm
Material: 4241 steel
Features:
Double helix.
Ø1.5mm – Ø6.5mm drill bit set.
High hardness, efficient drilling with a longer service life.
Suitable for stainless steel, iron plate, copper steel plate, aluminum and other materials.
We Also Recommend