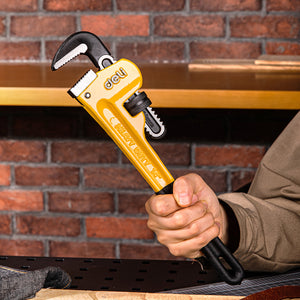 Pipe Wrench (14")
SKU:
52763
HEAVY DUTY 
Model no: DL2514
Brand: DELI TOOLS
ALU: 6974173011788
Color: YELLOW
Size: 14INCH

Deli Tools – Pipe Wrench
Heavy Duty
Brand: Deli Tools
Model: DL2514
Color: Black/Yellow
Overall Length: 350mm (14-inch)
Clamping Range: up to 60mm
Material: Cr-Mo + Carbon steel
Features:
Heavy duty pipe wrench.
Teeth jaws: stable clamping.
Adjustable pitch for flexible and versatile use.
Overall heat treatment, high hardness, high torque, strong toughness.
Precision worm knurled nuts, smooth to use, easy to adjust, flexible and durable.
Ergonomically handle with environment-friendly materials for comfortable and anti-slip grip.
We Also Recommend