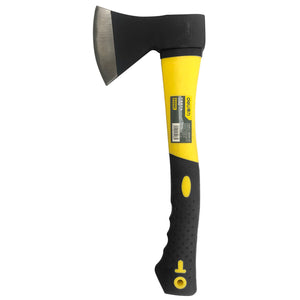 Axe (15")
SKU:
48295
RUBBER HANDLE 
Model no: DL5708
Brand: DELI TOOLS
ALU: 6971092841885
Color: BLACK/YELLOW
Size: 600G

Deli Tools – Axe
Rubber Handle
Brand: Deli Tools
Model: DL5708
Color: Black/Yellow
Material: Steel + Rubber
Dimension: 14.5 x 38.5cm (5.7" x 15.2")
Net Weight: 600g
Features:
Ergonomically handle design.
Comfortable to the touch, labor-saving, non-slip.
High hardness, high strength, abrasion resistance, rust-proof.
Black glue on top of the axe, strong and durable, not easy to fall off.
Blade polishing, sharp opening, with protective cover, easy to store and carry.
We Also Recommend