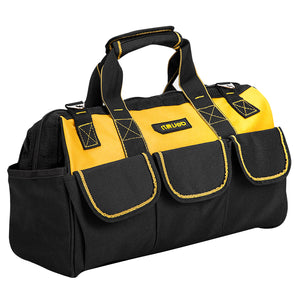 Tool Bag (16")
SKU:
52797
OXFORD CLOTH 
Model no: DL430116
Brand: DELI TOOLS
ALU: 6974173017247
Color: BLACK/YELLOW
Size: 16INCH

Deli Tools – Tool Bag
16-inch Tool Bag
Brand: Deli Tools
Model: DL430116
Color: Black/Yellow
Material: Oxford Cloth
Dimension (W x D x H): 36 x 18 x 25cm (14.2" x 7.1" x 9.8")
Features:
Splash-proof.
With Strap included.
Meticulous stitching.
Double-sided pockets.
Wear and tear resistance.
High density oxford fabric.
Anti-puncture, effective protection of personal safety.
Built-in multi-function plug pockets, rational use of three-dimensional space.
We Also Recommend