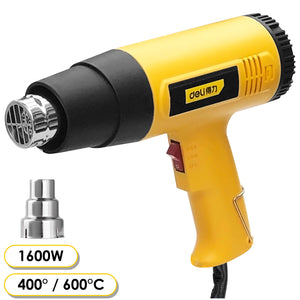 Heat Gun
SKU:
52747
DOUBLE HEATING CORE (1600W)  
Model no: DL5200
Brand: DELI TOOLS
ALU: 6974173018404
Color: BLACK/YELLOW

Deli Tools – Heat Gun
Double Heating Core
Brand: Deli Tools
Model: DL5200
Color: Black/Yellow
Rated Power: 1600W
Rated Voltage: 220V~
Rated Frequency: 50Hz
No. of Gear Adjustment: Two Gears
Temperature adjustable range: 400 °C – 590 °C
Gas flow rate: 250-500L/min
Shell Material: ABS + PA66
Features:
Includes: Small heat gun nozzle (x1).
Low Noise, constantly speed and stable air output.
Double heating core of this product adopts high temperature resistance and heat insulation.
Overheat protection and poly ring uniform winding design for heating could not only stabilize output but also extend the service life of heating core.
We Also Recommend