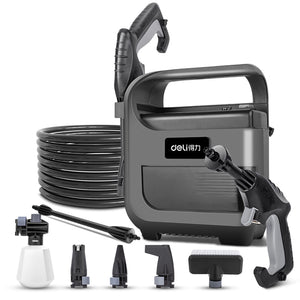 Pressure Washer
SKU:
52769
18V PORTABLE 
Model no: DL8078
Brand: DELI TOOLS
ALU: 6971092849669
Color: BLACK

Deli Tool – Pressure Washer
Lithium-ion Pressure Washer
Brand: Deli Tools
Model: DL8078
Color: Black
Flow Rate: 3L/min
Rated Voltage: 18V
Rated Input Power: 320W
Rated Pressure: 30bar
Allowable Pressure: 105bar
No. of Speeds: 2 (Low / High)
Waterproof Grade: IPX5
Rated Temperature: 60°C
Battery Capacity: 4400mAh
Product Dimension (W x D x H): 28 x 14 x 34cm (11" x 5.5" x 13.4")
Features:
Cordless pressure washer.
Accessory storage on the backside.
Light weight and easy to carry, the best choice for outdoor and long-distance travel.
Built-in overload, overcharge, over discharge, overcurrent, over-temperature and short circuit protection. Ensure safe.
Self-priming function allows the Pressure Washer to suck water from faucets, bottles, buckets, sinks, etc, making it convenient for you to use it whenever you need it.
Portable Washer is not only used for washing cars, but also for watering flowers, cleaning bathroom sinks, windows, doors, walls, roofs, floors, swimming pools, fenced yards, driveways, crevices and corners, etc.
Packing Contents:
Pressure Washer – x1
Spray Gun – x2
Soap Bottle – x1
Extension lance - x1
Brush – x1
Lotus nozzle – x1
Straight Nozzle – x1
Right-angle curved nozzle – x1
1.5m Inlet Pipe – x1
15m Outlet Pipe – x1
Charger – x1
User Manual – x1
Warranty: 6 Months Warranty
We Also Recommend