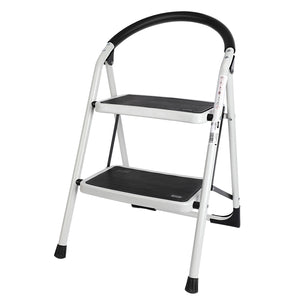 Ladder (2 Steps)
SKU:
52752
FOLDABLE 
Model no: DL509012
Brand: DELI TOOLS
ALU: 6975495595178
Color: BLACK/WHITE
Deli Tools – Ladder
2-Steps
Brand: Deli Tools
Model: DL509012
Color: Black/White
No. of Steps: 2 Steps
Material: Steel
Load Bearing Weight: Up to 150kg
Unfolded Ladder Height: 75.5cm (2'6")
Features:
2 ft. 6-in Ladder.
Safety Ensure: Made of high strength
Easy to move and carry, folds up for easy storage.
Non-Slip Pedal Mat: Provides more stability and ensure your safety when stepping on the ladder.
2 Steps Folding Ladder is convenient for cleaning, repairing and reaching items around the house, office or garage.
We Also Recommend