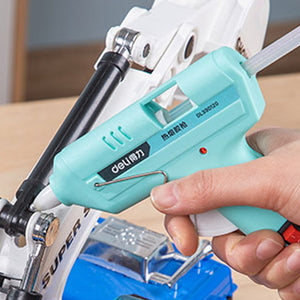 Glue Gun
SKU:
48176
HOT MELT (20W) 
Model no: DL390120
Brand: DELI TOOLS
ALU: 6971092849485
Color: BLUE
Deli Tools – Glue Gun
Hot Melt
Brand: Deli Tools
Model: DL390120
Color: Blue
Rated Power: 20W
Cord Length: 1.5m
Glue Stick Diameter: Ø 7mm
Material: Hard Plastic
Product Size: 11.7 x 11.5cm
Features:
Filter tip + drip-proof design.
3C certification safety line, safe and reliable.
Aluminum alloy outlet, durable and anti-rust.
Ceramic heating chip, constant temperature sol.
Smooth dispensing, uniform dispensing, stable sol.
Anti-dumping bracket design, safe and convenient.
Independent switch design, energy saving and power saving.
We Also Recommend