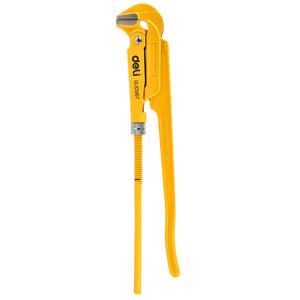 Pipe Wrench (22")
SKU:
52762
SWEDISH 
Model no: DL105167
Brand: DELI TOOLS
ALU: 6975495590456
Color: YELLOW
Size: 22INCH

Deli Tools – Pipe Wrench
Swedish Pipe Wrench
Brand: Deli Tools
Model: DL105167
Color: Yellow
Overall Length: 570mm (22.4")
Pipe Max. Diameter: 2-inch
Clamping Range: up to 67mm
Material: Carbon steel
Features:
90-degree angled jaws.
Designed to provide a firm grip and plenty of leverage in tight spaces.
It has serrated jaws that lock onto pipes and a knurled steel adjustment nut to easily open and close the wrench jaw from the handle.
We Also Recommend