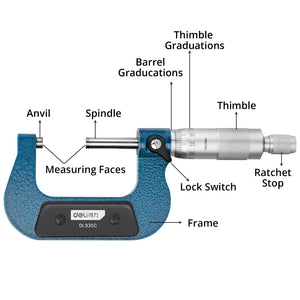 Micrometer (25-50mm)
SKU:
52756
ALLOY STEEL 
Model no: DL9350
Brand: DELI TOOLS
ALU: 6970897945705
Color: BLACK/YELLOW
Size: 9INCH

Deli Tools – Micrometer
Outside Micrometer
Brand: Deli Tools
Model: DL9350
Color: Blue/Silver
Range: 25 – 50mm
Division Value: 0.001mm
Material: Alloy Steel
Dimension (W x H): 63 x 160mm
Features:
High accuracy and ease of use.
For measuring the thickness or outside diameter of small parts.
With anvil/spindle pair for measuring accuracy for precise readings.
Alloy steel measuring plane for abrasion resistance and high accuracy.
Force measuring device with locking switch to ensure measurement strength.
We Also Recommend