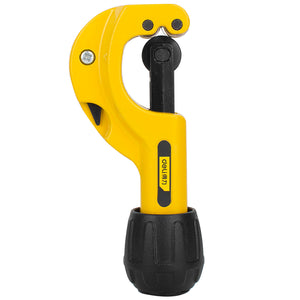 Metal Pipe Cutter
SKU:
47003
ALLOY STEEL
Model no: DL2504
Brand: DELI TOOLS
ALU: 6970897946023
Color: BLACK/YELLOW
Size: 3-32MM

Deli Tools – Metal Pipe Cutter
Brand: Deli Tools
Model: DL2504
Color: Black/Yellow
Cutting Diameter Range: 3 – 32cm
Material: Aluminum Alloy + SICR
Overall Dimension: 6 x 14cm
Features:
The pipe can be cut directly from 3-32mm.
The product shell is made of aluminum alloy, and the straight groove and spin ball are made of zinc alloy, which is beautiful and practical.
The knife edge of the product is made of SICR alloy cutting tool steel, the hardness can reach 52-62HRC after heat treatment, and the cutting is sharp.
We Also Recommend