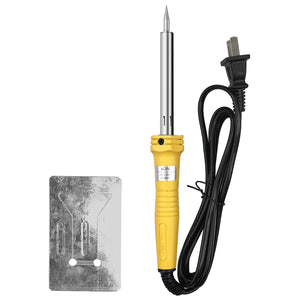 Soldering Iron
SKU:
47026
ELECTRIC (40W) 
Model no: DL8840
Brand: DELI TOOLS
ALU: 6970897947372
Color: BLACK/YELLOW

Deli Tools – Soldering Iron
Electric 
Brand: Deli Tools
Model: DL8840
Color: Black/Yellow
Rated Power: 40W
Rated Voltage: 220V
Rated Frequency: 50Hz
Overall Length: 22cm (8.7")
Material: Steel + Plastic
Features:
Soldering Iron Stand (x1) included.
Natural mica sheet, good heat insulation effect.
Nickel-chromium wire heating core, heating up quickly.
40W Radio controls hobbies and crafts, small electrical parts.
PBT engineering plastic handle, heat-proof and flame retardant.
We Also Recommend