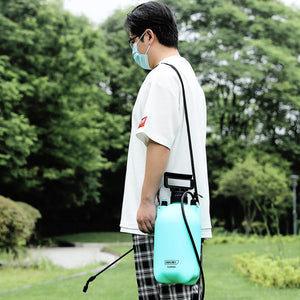 Spray Bottle (5L)
SKU:
52789
PLASTIC 
Model no: DL581105A
Brand: DELI TOOLS
ALU: 6975102940742
Size: 5L
Color: GREEM
Deli Tools - Spray Bottle
Pressurized Sprayer
Brand: Deli Tools
Model: DL581105A
Capacity: 5 Liter (5000ml)
Color: Green
Material: PE + PP Plastic
Dimension (Dia. x H): 18 x 43cm (7.1" x 16.9")
Features:
Adjustable nozzle.
Adjustable shoulder strap included.
Usage: Disinfection, farming, trees, etc.
Fashionable appearance, fresh color matching.
Adjustable sprinkler with column and fan shapes.
We Also Recommend