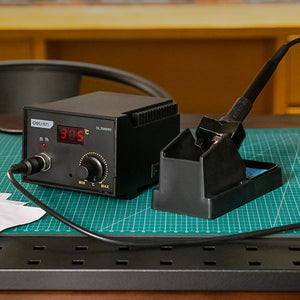 Soldering Station
SKU:
52783
60W
Model no: DL398060
Brand: DELI TOOLS
ALU: 6971092847757
Color: BLACK
Deli Tools – Soldering Station
Digital Temperature Control Soldering Station
Brand: Deli Tools
Model: DL398060
Color: Black
Rated Power: 60W
Rated Voltage: 220V ~
Rated Frequency: 50Hz
Output Voltage: 24V AC
Temperature Range: 200°C – 480°C
Temperature Stability: ± 10°C
Ground resistance of molten iron head: ≤ 2 Ω
Ground potential of molten iron head: ≤ 2mV
Soldering Iron Length: 19.5cm (7.7")
Soldering Station Dimension (W x D x H): 11.5 x 14 x 9cm (4.5" x 5.5" x 3.5")
Warranty: 6 Months Warranty
Features:
Nylon handle, comfortable grip.
Digital display temperature control.
The soldering iron works in a temperature range of 200 - 480 °C.
Thanks to its compact design, the soldering station can also be used flexibly on small work surfaces.
The soldering iron can be safely stored and cleaned on the soldering iron tray with integrated dry sponge - so sensitive soldering tips remain ready for use and well cared for.
Packing Contents:
Soldering Station – x1
Soldering Iron – x1
Soldering Iron stand with sponge – x1
User Manual – x1
We Also Recommend