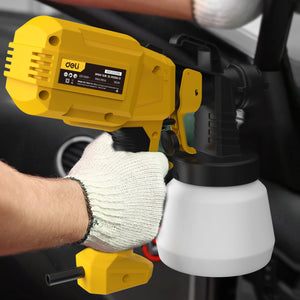 Electric Spray Gun (800ml)
SKU:
52787
550W 
Model no: DL-PQ380-E1
Brand: DELI TOOLS
ALU: 6975102949509
Color: BLACK/YELLOW

Deli Tools – Spray Gun
Electric
Brand: Deli Tools
Model: DL-PQ380-E1
Color: Black/Yellow
Spray Can Capacity: 800ml
Max. flow: 650/min
Rated Power: 550W
Rated Voltage: 220-240V
Rated Frequency: 50-60Hz
Features:
550W high power motor.
Easy adjustment of paint flow for ideal paint film thickness.
Applicable: wall, wood and metal surface paint spraying etc.
Plug and use, air compressor unrequired, convenient and fast.
Adjustable four spraying shapes, adapting to various application scenarios.
800ml large-volume can and facilitates quick painting covering all the major portions of painting surface.
It has got built-in spray tip which is designed for professionaire suits while using latex, oil paints and stains.
We Also Recommend