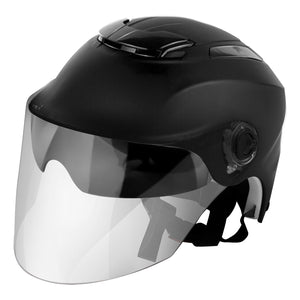 Helmet
SKU:
46988
HALF-HELMET ABS 
Model no: DL885001
Brand: DELI TOOLS
ALU: 6973107482847
Color: BLACK
Size: 54-61CM

Deli Tools - Helmet
Safety Helmet
Brand: Deli Tools
Model: DL885001
Color: Matte Black
Suitable Head Circumference: 54 - 61cm applicable.
Material: ABS Plastic
Features:
Open wide view of the field.
Dragon bone structure buffer layer.
Air vent design, can be manually switched off. 
Made of ABS engineering plastic, the quality is hard and safe and anti-Collison.
Double lens design, the visual field of the external lens is clear and the endoscope with extension and contraction, is effective resistance to light and sunlight.
We Also Recommend