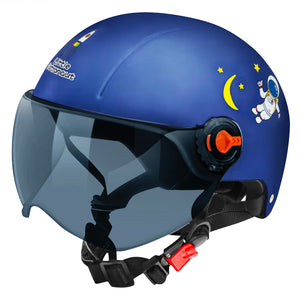 Helmet
SKU:
50325
HALF-HELMET ABS 
Model no: DL885041
Brand: DELI TOOLS
ALU: 6974173012914
Color: BLUE
Size: 48-53CM

Deli Tools - Helmet
Safety Kids Half-Helmet
Brand: Deli Tools
Model: DL885041
Color: Blue
Suitable Head Circumference: 48 - 53 applicable.
Material: EPS + ABS Plastic
Features:
EPS buffer layer.
Safety Protection.
Cute cartoon pattern.
Comfortable chin rest.
Open wide view of the field.
Adjustable head circumference knob on the back of helmet.
Quick lens base design, easy to remove and clean and install.
Made of ABS engineering plastic, the quality is hard and safe and anti-impact.
Block the bright light to a certain extent and wind protection, no face to face with the wind.
We Also Recommend