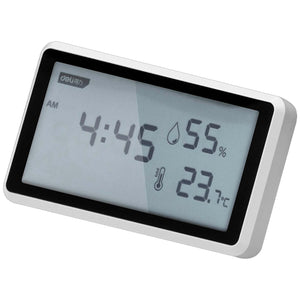 Digital Clock
SKU:
46925
TIME & TEMPERATURE 
Model no: DL336001
Brand: DELI
ALU: 6973107482106
Color: WHITE

Deli Tools – Digital Clock
Brand: Deli Tools
Model: DL336001
Color: White
No. of Functions: 3 (Time, Temperature, & Humidity)
Time: 12/24 hour display, Date Setting
Temperature Measurement Range: ± 1°C (0°C ~ 40°C)
Temperature Resolution: 0.1°C
Humidity Measurement Accuracy: ±5%RH (40%RH ~ 70%RH), other sections ±7%RH
Humidity Resolution: 1%RH
Battery: 1.5V AAA Batteries (x2) (Included)
Material: ABS Plastic
Dimension (W x D x H): 11 x 1.6 x 6cm (4.3" x 0.6" x 2.4")
Features:
4-inch LCD screen display.
Mainly displays time, temperature, and humidity.
Powered by 2x AAA batteries, long battery life, up to about 12 months:
The display is accurate, the temperature is displayed to 0.1°C, and the accuracy is ± 1°C.
The three functions of time, temperature and humidity are displayed on the same screen.
It can be used in home living rooms, bedrooms, classrooms, offices, production workshops and other places.
* It is not recommended to use in outdoor scenes, which will cause inaccurate display.
We Also Recommend