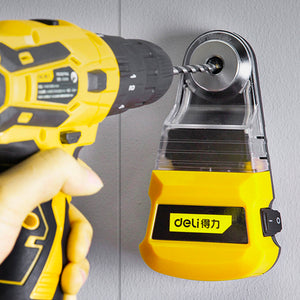 Dust Collector
SKU:
46942
METAL + PLASTIC
Model no: DL603010
Brand: DELI TOOLS
ALU: 6971092849836
Color: BLACK/YELLOW

Deli Tools – Dust Collector
Brand: Deli Tools
Model: DL603010
Color: Yellow/Black
Battery Type: AA Batteries (x2) Included
Drill Bit Range (Dia.): Up to Ø 10mm
Dimension (W x D x H): 8 x 5 x 15.5cm (3.1" x 2" x 6.1")
Features:
Dust Collector is powered by two AA batteries (Batteries Included (x2)).
Dust Cover: As you drill, dust and debris falls into the collection box instead of the floor.
Internal Brushes: It comes with internal brushes that clean the drill bit and prevent any dust from escaping when backing out of the hole.
Vacuum Mount: Dust Collector sticks to the wall with its own internal vacuum mount. When you flip the switch, the vacuum pump sticks it to the wall.
We Also Recommend