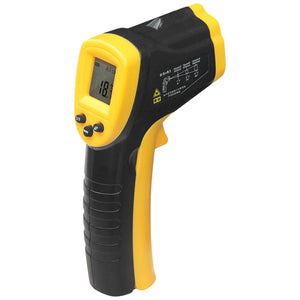 Infrared Thermometer
SKU:
47030
-30°C ~ 380°C 
Model: DL333380
Brand: DELI TOOLS
ALU: 6971092848426
Color: BLACK/YELLOW

Deli Tools - Thermometer
Infrared Thermometer
Brand: Deli Tools
Model: DL333380
Color: Black/Yellow
Battery: 2x AAA (Battery Included)
Temperature Range: -30 ~ 380°C (-22°F ~ 716°F)
Accuracy: ±2% or ±2°C (whichever is greater)
Response Time: < 0.5s
Distance to Spot size (D: S): 12:1
Features:
Non-Medical.
°C/°F switchover.
LCD color backlight.
Fast response within 5 seconds.
This unit consists of Optics, Temperature Sensor Signal amplifier, Processing circuit and LCD Display.
This infrared thermometer is used for measuring the temperature of the object's surface, which is applicable for various hot, hazardous or hard-to reach objects without contact safely and quickly.
Click here for User Manual
We Also Recommend