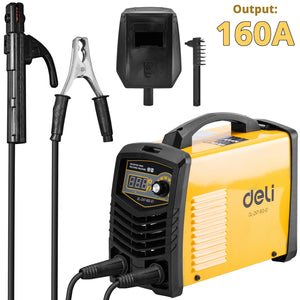 Welding Machine
SKU:
52817
INVERTER MMA 20-160A 
Model no: DL-ZX7-160-E1
Brand: DELI TOOLS
ALU: 6975102941305
Color: BLACK/YELLOW

Deli Tools – Welding Machine
Inverter MM Welding Machine
Brand: Deli Tools
Model: DL-ZX7-160-E1
Color: Black/Yellow
Rated Capacity: 6.8KVA
Output Voltage: 26.4V
Input Voltage: 220V
Output current: 20 - 160A
Rated Frequency: 50/60Hz
Duty cycle: 40% @25°C
Diameter of electrode: 1.6 – 4.0mm
No-load voltage: 60V ± 5
Product Dimension (W x D x H): 12 x 29 x 21cm (4.7" x 11.4" x 8.3")
Features:
Easy arcing.
IGBT Inverter technology.
Built-in arc-force for easier arcing.
Built-in hot arc ignition for easier arcing.
Built-in indicated internal setting, without need for external adjustment.
Overcurrent protection, automatic protection and work suspension in case of excessive current.
Built-in anti-sticking, after welding rod sticks to the workpiece, it will automatically separate after 3 seconds.
Scope of use: Machinery manufacturing, sheet metal processing, guardrail, automotive maintenance, iron processing, large projects, factory, shipyard, home decoration, construction field.
Package Contents:
Welding Machine – x1
Welding Mask – x1
Earth clamp with cable – x1
Electrode holder with cable – x1
Wire brush – x1
User Manual – x1
Be note: ARC RAYS can burn. Wear eye, ear and body protection. Read user manual before use.
Click here for User Manual
We Also Recommend