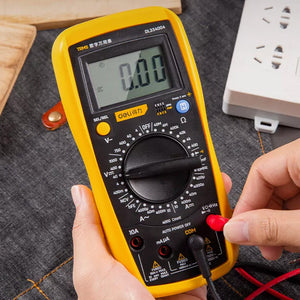 Digital Multimeter
SKU:
46926
PLASTIC 
Model no: DL334004
Brand: DELI TOOLS
ALU: 6973107480034
Color: BLACK/YELLOW

Deli Tools – Digital Multimeter
Brand: Deli Tools
Model: DL334004
Color: Black/Yellow
Display: 3 ¾ digits LCD, 3999 counts
IP Rating: IP20
Max. DC Voltage: 1000V
Max. AC Voltage: 750V
Max. DC Current: 10A
Max. Ohm: 40M
Over range Indication: "OL" shown on the display
Negative Polarity Indication: Negative sign "-"shown on the display automatically
Sampling Rate: About 2 to 3 times/sec
Battery: 9V battery, 6F22 or equivalent, 1 piece
Operating Altitude: 0 to 2000 meters
Operating Environment:
Temperature: 0°C to 40°C
Relative Humidity: < 75%
Temperature Coefficient: 0.1 x (specified accuracy) / °C (<18°C or >28°C)
Storage Environment:
Temperature: -10°C to 50°C
Relative Humidity: < 85%
Material: Plastic
Dimension (W x D x H): 8.8 x 6.2 x 18.5cm
Weight: About 393g (including battery and holster)
Features:
Backlit LCD Display.
Overload Protection.
Accurate measurement.
Maximum Display 3999.
Back support, convenient and quick to read data.
A Variety of gears, adjust the gears through the knob.
Test lead socket, insert the test lead smoothly and tightly.
Accuracy is specified for a period of one year after calibration and at 18°C to 28°C, with relative humidity <75%.
Click here for User Manual
We Also Recommend