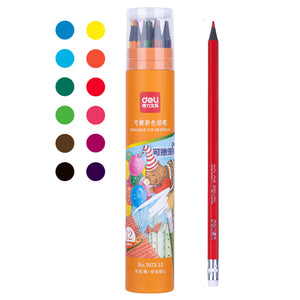 Color Pencil Set (12 PCs)
SKU:
52905
12 COLORS ERASABLE
Model no: 7073-12
Brand: DELI
ALU: 6921734912794
Color: ASST
Deli – Color Pencil Set
12 Colors Erasable
Brand: Deli
Model: 7073-12
Color: Assorted Color
Tube Design: Hexagonal
Packaged form: Tube
Number of Colors: 12 Colors
Dimension (Dia. x H): 35 x 203mm
Features:
Easy to sharpen.
High quality lead.
Made from softened poplar.
Balanced coloring and anti-faded.
Erase at any time, easy to use, compact and convenient.
Colorful high-quality lead for bright color and smooth coloring.
We Also Recommend