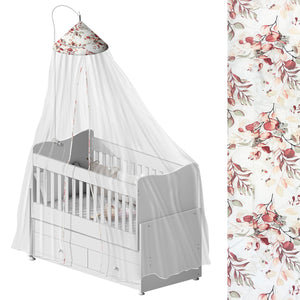 Mosquito Net
SKU:
52572
MOON CONE TULLE FABRIC
Model: MN-31364
Brand: ELMALELLA
ALU: 54084
Color: RAUGE

Note: Baby cot not included. Only for Reference.
ElmaLella – Mosquito Net
Moon Cone Mosquito Net with Stand
Brand: ElmaLella
Model: MN-31364
Color: Rauge
Material (Mosquito Net): Cotton + Tulle Fabric
Material (Stand): Metal + Plastic
Overall Size (Dia. X H): 45 x 161cm (17.7" x 63.4")
Features:
Stand included.
Lightweight and compact.
The prop consists of 3 metal tubes which can be joined together easily; the stand can be fixed onto crib rail securely with the plastic screw-clamp system without damaging rail.
We Also Recommend