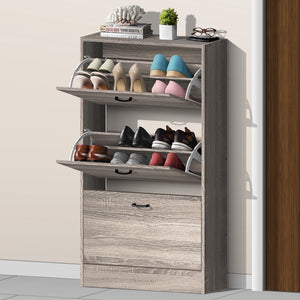 Shoe Rack
SKU:
42227
WOODEN 
Model no: 6022-1
Brand: F-GOLD
ALU: 9314
Color: DARK BROWN
ASSEMBLING CHARGE:
Please Select the Required Option under "Frequently Bought Together"

Shoe Rack Assembling Charge - MVR 100
F-Gold - Shoe Rack
Brand: F-Gold
Model no: 6022-1
Color: Dark Brown (170)
Material: Wood 
Features:
3 flip down compartments.
Simple, stylish and contemporary design.
Holds up to 18 pairs of shoes comfortably.
Dimension:
Width x Depth x Height
Centimeter (cm):
W 63 x D 24 x H 115cm
Inch ("):
W 24.8" x D 9.4" x H 45.3"
Feet (') Inch ("):
W 2'1" x D 0'9" x H 3'9"
We Also Recommend