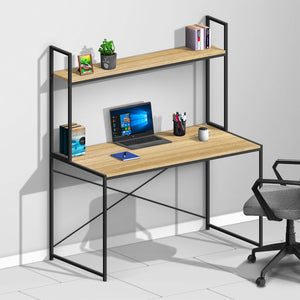 Desk
SKU:
53071
COMPUTER DESK 
Model no: XXZ1260AG
Brand: GDX
ALU: 6955085628493
Color: OAK
GDX – Desk
Computer Desk with 1 Shelf
Brand: GDX
Model: XXZ1260AG
Color: Oak/Black
Material: Wood + Metal
Features:
The shelf allows you to storage your books, magazines, and other display things.
Constructed with heavy duty board, this computer desk is more durable and sturdier to support your daily use.
With modern and elegant design, this computer desk is practical and also perfect to decorate your study room, office, dorm or any other workplaces.
Dimension:
Width x Depth x Height
Centimeter (cm):
W 120 x D 60 x H 138cm
Inch ("):
W 47.2" x D 23.6" x H 54.3"
Feet (') Inch ("):
W 3'11" x D 2' x H 4'6"
We Also Recommend