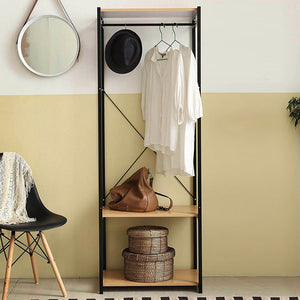 Open Wardrobe
SKU:
53115
WITH 2 SHELF
Model no: YG6017DLGZ
Brand: GDX
ALU: 6955085628516
Color: OAK
Visit our WARDROBE Category
Open Wardrobe
Garment Rail + 2 Shelves
Brand: GDX
Model: YG6017DLGZ
Color: Oak/Black
Material: Metal + Wood
Features:
This free standing coat rack is made of durable MDF and steel, fixed with cross bar, meet your long term needs.
Modern Design: Simple and modern appearance, black with powder coating; waterproof and rustproof; easy to clean and maintain.
Clothing storage solution: Large, open wardrobe with garment rail and shelves - For more space and order in your home.
Open clothes stand: Space for jackets, suits, shoes, shirts, trousers, undergarments, etc. – Ideal wardrobe for the hallway, stairwell, bedroom, guest room or office.
Sturdy clothes storage: Frames made entirely out of metal - High-quality, robust steel.
Dimension
Width x Depth x Height
Centimeter (cm):
W 60 x D 40.5 x H 167cm
Inch ("):
W 23.6" x D 15.9" x H 65.7"
Feet (ft.):
W 1'12" x D 1'4" x H 5'6"
We Also Recommend