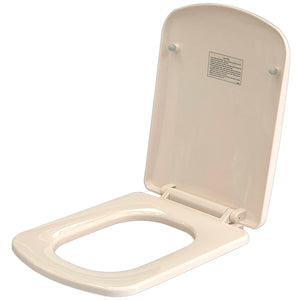 Toilet Seat Cover
SKU:
44797
SOFT-CLOSE PLASTIC
Model no: S6180S
Brand: HUIDA
ALU: 20991
Color: IVORY
Huida – Toilet Seat Cover
Toilet Seat Cover for Two-Piece Toilet (HDC201NT/201D)
Brand: Huida
Model: S6180S
Color: Ivory
Material: Plastic
Compatible for:
#44798 – Two-piece Toilet (HDC15T/S15) – Click Here
Dimension (W x D x H): 360 x 460 x 55mm (14.4" x 18.1" x 2.2")
Features:
Soft close Seat Cover: Prevents the lid and seat from slamming.
Quick-Release Hinges: Allows seat to be unlatched from toilet for easy removal and convenient cleaning; No tools required.
Quick-Attach Hardware: Fast and secure installation.
Note: Two-Piece Toilet Sold Separately.
We Also Recommend